Free Range Duck Breast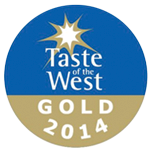 Pack of 2.
This product won gold at the Taste of the West 2014.
Our free range duck breasts are boneless and served with the skin on. If you prefer them skinless the skin is easily removable as it simply peels away. Our rich and tender breasts can be grilled, fried, oven roasted offering you a mouth-watering meal.
Please order any items you would like for Christmas separately as the whole order will be sent/processed together.
ORDERS FOR SCOTLAND - Sorry. We can only process Christmas orders for Scotland by phone. Please call 07921 267372 to place your order and get a quote for delivery.