WE ARE NOW TAKING ORDERS FOR CHRISTMAS. THANK YOU.
Caramalised Onion & Cracked Pepper Chicken Burgers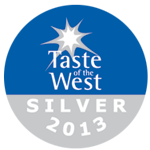 Pack of 4.
This product won silver at the Taste of the West 2013.
Made from mince of selected cuts, this is real meat formed into real burgers. From the finest selection of our free range chicken our burgers are handmade and hand pressed ensuring only the finest quality burger.
Allergen advice: Contains gluten.
Please order any items you would like for Christmas separately as the whole order will be sent/processed together.
ORDERS FOR SCOTLAND - Sorry. We can only process Christmas orders for Scotland by phone. Please call 07921 267372 to place your order and get a quote for delivery.
Order by midnight on Sunday for a delivery on Wednesday.
Delivery charges are as follows:-
Orders up to £50 are £10.00.
Orders between £50-£100 are £5.
Orders over £100 are FREE
Scotland and Highlands delivery prices may differ
For health and safety reasons, we cannot mix chilled & frozen products in the same order.
If you opt to have frozen products sent then please specify on your order and we will professionally freeze all of your goods at no extra cost.
Some prices where are shown are based on weight, and may be subject to variation depending on the exact weight of an individual product. We will always do our very best to achieve exact weights, however due to items being cut by hand we cannot guarantee precise weights.
---