Caramalised Onion and Cracked Pepper Chicken Burgers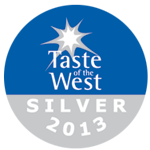 Pack of 4.
This product won silver at the Taste of the West 2013.
Made from mince of selected cuts, this is real meat formed into real burgers. From the finest selection of our free range chicken our burgers are handmade and hand pressed ensuring only the finest quality burger.
Allergen advice: Contains gluten.
Please order any items you would like for Christmas separately as the whole order will be sent/processed together.
Order by midnight Wednesday 15th December for delivery Wednesday 22nd December.
ORDERS FOR SCOTLAND - Sorry. We can only process Christmas orders for Scotland by phone. Please call 07921 267372 to place your order and get a quote for delivery.