This is one of Jamie Olivers 15 minute meals and is just delicious. Although it always takes me a little longer than 15 mins to make, I don't mind as this is just divine – so fresh and zingy. I have modified this slightly (we're not keen on tofu, so omitted it).
Ingredients 
Parcels
4 nests of fine egg noodles
1 large iceberg lettuce
1 tbs sesame oil
4 tbs hoi sin sauce
3 limes
1 clove of garlic
Large handful of coriander
sweet chilli sauce
Duck
2 x 200g Beech Ridge Farm duck breasts (skin on)
1 tsp Chinese five-spice
olive oil
1 fresh red chilli (optional)
2 spring onions
1 handful of cashew nuts
2 tbs sesame seeds
1 tsp runny honey
Method
Put the noodles into a small pan and cover with boiling water and the lid.
Cut the duck into 1cm dice, toss with salt, pepper and the five-spice.  Then put into the frying pan with 1 tablespoon of olive oil and toss regularly.
Cut the lettuces in half through the stalk, remove the stalk, then separate the leaves into cups and arrange on a large plate, tray or platter.
Drain the noodles and toss with the sesame oil, then divide them between the lettuce cups.
Finely slice the chilli and spring onions. When the duck is golden and the fat looks crispy, pour away any excess fat and stir in the chilli, spring onions, cashews and sesame seeds.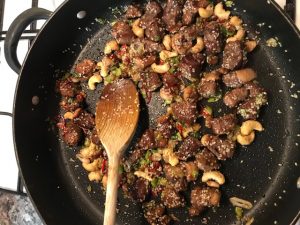 Put the hoi sin sauce into a bowl, squeeze in the juice from 3 limes and finely grate in the garlic (or put through a garlic crusher) and mix together.
Drizzle the duck with the honey, shake the pan to coat, then divide between the lettuce cups.
Scatter over the baby radishes and coriander leaves and snip over the cress.
Drizzle the hoi sin dressing and a little sweet chilli sauce over everything from a height.
Serve with lime wedges.
ENJOY!